Upskilling women. Recently we rolled out with two very male-centric companies, IFFCO and ONGC in the Oil and Gas and Fertilizer Manufacturing business ( yep can't get more male-centric!) and in India. I say this since the multiplier then becomes 10x of difficulty for women to enter much less rise in these companies.
GLEAC was hand-picked by SHRM (Society of Human Resource Management) for these projects after a highly successful roll-out in December at India Oil. We were told in fact " GLEAC is being requested now by these Gov't clients". Why?
Is it our high-touch model delivering real work micro-practices specific to a User's sector on Whatsup?
Maybe it is our human concierge service we give to ensure synchronous learning happens?
Or can it be because we shorten the distance of women to get mentorship and feedback built into the product answers?
I would say it's all 3 that are getting us these over 75% engagement rates 90 days in.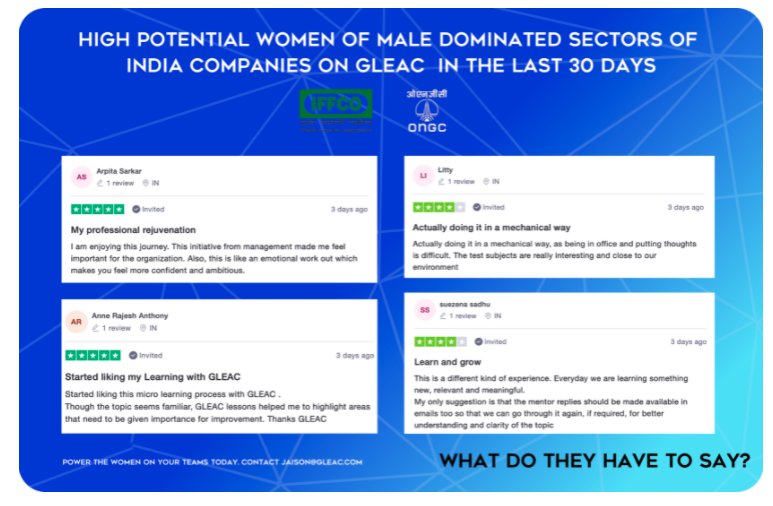 But there is still a problem we cannot solve;-)
It came up recently in the on-boarding of women at one oil company where one shared when she walked into the leadership meetings as the only female, all the men stop speaking. Do you see the problem?
My response was you diffuse the situation by saying out loud in the dead silence and the absolute charm of a true female leader… How can I help? And flash a smile and sit and don't speak until one of the brave souls becomes the outlier and speaks. It just takes one 😉
How would you diffuse the situation as a male or female?
For more awesome content from our other mentors check out our blog (www.gleac.com/blog). Visit at our website (www.gleac.com) and also for our NFTs head on over to Lovely Humans (www.lovelyhumans.io) to learn more!
Also, head on over to Sallyann Della Casa's LinkedIn profile to see some of her more recent achievements and work!