Most of us are grateful even if we have one successful career. But imagine having three! The star of today is none other than Farah Nanji. She is a successful DJ, motorsports founder, as well as a podcast producer. In addition to all these hustles, Farah is also a TEDx speaker and a guest lecturer, mentor, and advisory board member at Regent's University London.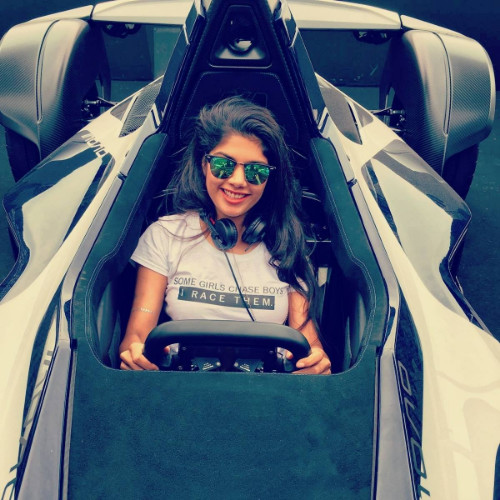 In a chat with GLEAC, Farah spoke about being the CEO of three companies and the likelihood of these companies surviving and thriving. Take a look!
GLEAC: Who do you have to thank for a decision that you made that got you where you are today?
Farah: Without sounding cliched but truly my parents and sister – the guidance and support from my family have been the difference between success and failure.
GLEAC: If a future version of yourself had to thank you for something you are doing right now, what would it be for?
Farah: Staying consistent and focused on developing the habits necessary to capture creativity.
GLEAC: What is your superpower soft skill? How do you use it in your job in your sector?
Farah: Creative communication – these days audiences really need to identify with the brand/person's story, their values, and what they stand for. Creative communication can have many touchpoints and I am using this soft skillset to communicate in a deep and meaningful way to my audiences graphically, sonically, and personally.
GLEAC: What hard skills and soft skills are needed for your job?
Farah: In music, the hard skills would be understanding music production on DAW's, playing instruments, and knowing DJ equipment. Soft skills would be communication, creative thinking, teamwork, flexibility, resilience, and negotiation skills. In being an entrepreneur in the motorsports industry, the hard skills would be knowing how to squeeze every ounce of speed in an engine, having a business degree, and having IT skills to run a modern-day business. Soft skills would be the exact same as music; communication, creative thinking, teamwork, flexibility, resilience, and negotiation skills.
GLEAC: How does your job impact the balance sheet of your company- which departments does it affect and how?
Farah: I am the CEO of 3 companies in music, motorsports, and podcasts therefore the decisions I take critically define all 3 balance sheets.
GLEAC: With all the changes happening in the world, is your sector going to survive, and if yes, why?
Farah: The music industry is in survival mode right now. Streaming has killed the industry, placing huge importance on touring which isn't healthy both mentally and physically for many artists. In addition, when crises like Covid-19 happen, it takes away any income generated from touring and sadly many musicians cannot afford to continue pursuing their craft. The opportunities in Web3 are creating an exciting paradigm for new revenue models to be created and the world will always need music. In order for the industry to survive, the first thing that needs to change is the royalty distribution from streaming platforms.
The motorsports industry is experiencing an exciting period of growth after the explosion of fan engagement and the impact of new audiences in series such as Formula 1, with more accessibility also provided through e-sports, and interest in the sport exploding through the Netflix show 'Drive To Survive'. One thing that needs to change however is the inclusion of females in motorsport. Although there are initiatives like the W Series and the newly announced female F1 Academy, there is a very long road ahead for females to get equal seating in the highest levels of motorsports.
The podcasts industry is also enjoying an explosive level of growth, growing by over 37% in the last decade. It is predicted to be a $98bn industry by 2028. As the format of media changes and the ability to create and communicate with audiences is becoming more decentralized, the user experience is becoming much more immersive and connected.
GLEAC: If you had to attract more talent to your team from another sector, who would you want, and with what skill sets?
Farah: Interesting question. I would love to attract talent from the gaming industry so we could gamify our music and motorsports experience in a cool way. Kazunori Yamauchi is the producer of Gran Turismo and a professional racing driver so he would be the perfect fit. Skill sets would be epic storytelling, collaborative design, and capturing creativity through a futuristic lens.
GLEAC: Which are the 3 must-have soft skills for newbies looking to enter your sector?
Farah: Creative communication, resilience, and teamwork.
GLEAC: Which skills will those belonging to your sector have to acquire to become indispensable?
Farah: Creativity is something that will always be indispensable, even in business. Staying resilient is also necessary – you have to know how to stay strong when facing all sorts of hurricanes in the mission.
GLEAC: Are there any soft skills you need to work on to better yourself?
Farah: Conflict resolution – it is very hard to unpick and change toxic cultures.
GLEAC: If you had to explain your job to a 5-year-old, how would you do it?
Farah: I get to move people's bodies to the beat and go on the best adventures around the world with my crew of ninjas!
GLEAC: What is the one learning of your professional journey you would like to share with the world?
Farah: It's down to you and only you to define your own hurdles, purpose, and measures of success in life. Not your teachers, not your parents, or your friends. We all have weaknesses, and we can either shy away from them or face them head-on and persevere outside of our comfort zones. It's down to you to build the habits of success. Be guided by your intuition, and lead your imagination to all the peaks, because every inspired experience will help you in moving faster towards the outcomes you want, even if you fail at first, recognize this is necessary for success and that it's also important to know when to draw the line and when to maximize every opportunity that life gives you.
GLEAC: Every career has its pros and cons. What are the good and bad aspects of your career?
Farah: Pros – It's extremely fun, there's always a new adventure waiting for me to explore every day. I get to see the world and learn from people from all walks and cultures in life, I also get to leave a long-lasting impact on those people through the healing powers of sound. It's also amazing to have your own platforms, the sky truly is the limit with what you can creatively unleash.
Cons – At the same time, it's very hard to keep a work/life balance as most of my weekends are filled with work and travel. This means a humongous sacrifice to family and friends. There is also a lot of unpredictability and financial stability in being a musician and an entrepreneur, especially from external forces that are not in your control like pandemics, political instability, etc.
GLEAC: Work in your sector can get rigorous. How do you keep up the mojo?
Farah: Making time for all the important stuff like walks, fitness, and digital detoxes is absolutely non-negotiable. It's important to create your own balance and spend precious time with those you love.
The #GLEACMentorCommunity enables its mentors to network with like-minded individuals from over 47 countries through sharing knowledge, unlocking business opportunities, access to all of GLEAC's monthly events, and much more! Interested in being part of our expert mentor community? Email us at: mentor@gleac.com or apply through this link. For more awesome content from our other mentors check out our blog (www.gleac.com/blog). Visit our website (www.gleac.com) and also for our NFTs head on over to Lovely Humans (www.lovelyhumans.io) to learn more!