Politics is a tricky business. It is easy to get caught up in the whirlwind of muscle and money power due to which the bigger picture often gets lost. While not claiming to be perfect, John Falcicchio is doing everything in his power to create gainful employment for the residents of the District of Columbia as a Deputy Mayor. He is dedicated to constantly bettering himself so he can do better for his people.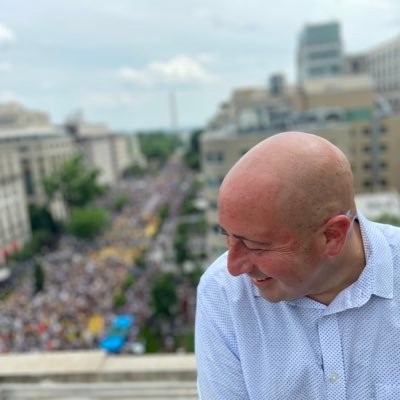 In a chat with GLEAC, John spoke about using his government office to make a real difference in people's lives. Take a look!
GLEAC: Who do you have to thank for a decision that you made that got you where you are today?
John: It all started with my parents who taught me work ethic by displaying it themselves. My mom worked at Merrill Lynch before taking on the role of full-time mom for my siblings and me. When we grew up, she decided to re-enter the workforce as a teacher. Since she didn't have a college degree, she worked full-time as a teacher's aide and pursued her college degree. She achieved it and graduated from college the same year her youngest child did. My dad was always involved in local politics, and he got my brothers and I engaged in that work. That sparked my interest in politics and government because I saw it as a way to help my neighbors and bring about positive change.
GLEAC: If a future version of yourself had to thank you for something you are doing right now, what would it be for?
John: I work hard on identifying and nurturing talent. I am proudest when I meet someone who says I helped them get their start. If I continue that throughout my career, my future self will be proud of the present me.
GLEAC: What is your superpower soft skill? How do you use it in your job in your sector?
John: Having a sense of urgency is my superpower. It is sometimes misunderstood as being sharp or direct, but in the work of government, time limits how much we can achieve. I never want to look with regret on what we didn't do. I want to look back and wonder how we were able to do so much.
GLEAC: What hard skills and soft skills are needed for your job as a Deputy Mayor?
John: It is critical to know how government should work but it is also important to understand how to make it work.
GLEAC: How does your job impact the balance sheet of your company- which departments does it affect and how?
John: My office is responsible for creating jobs, building housing, and generating tax revenue. Everything we do impacts the bottom line of the District of Columbia Government.
GLEAC: With all the changes happening in the world, is your sector going to survive, and if yes, why?
John: Although tested like never before during the pandemic, the Trump Administration, the much-needed social justice conversation, and January 6th, our government not only survived but it supported so many residents and businesses to survive for our collective comeback. In many ways, that is what a government is supposed to do: be stable when all other norms are challenged.
GLEAC: Are there any soft skills you need to work on to better yourself?
John: Patience is a virtue, and in that way, I can be more virtuous. At times, that may mean taking more time to explain where we want to go. At other times, that could mean listening more on the front end before pushing forward.
GLEAC: If you had to explain your job to a 5-year-old, how would you do it?
John: I help Mayor Bowser run the government to ensure schools are open, services are delivered, and residents and businesses succeed.
GLEAC: What is the one learning of your professional journey you would like to share with the world?
John: The people you meet along the way and the relationships you build with them will determine how far you go. Maybe it is the intensity of the work in government and politics, but the relationships forged and how you nurture them is the most important determinant of how successful you will ultimately be.
GLEAC: Every career has its pros and cons. What are the good and bad aspects of your career?
John: The good is simply the good that I've been a part of all along the way – whether it was getting good people elected or now doing good and seeing the impact. The hard part is it can be all-consuming if you let it be. That is a difficult trade-off, but there are no regrets.
GLEAC: Work in your sector can get rigorous. How do you keep up the mojo?
John: If you are empathetic in your work and you also focus on the people your work can have an impact on- you will be successful beyond what you think is possible.
The #GLEACMentorCommunity enables its mentors to network with like-minded individuals from over 47 countries through sharing knowledge, unlocking business opportunities, access to all of GLEAC's monthly events, and much more! Interested in being part of our expert mentor community?  Email us at: mentor@gleac.com or apply through this link. For more awesome content from our other mentors check out our blog (www.gleac.com/blog). Visit our website (www.gleac.com) and also for our NFTs head on over to Lovely Humans (www.lovelyhumans.io) to learn more!