Looking for constant inspiration while also inspiring those around you is a never-ending process. But Dina Faidi has been practicing this art of inspiration ever since she began her career. Dina founded Creativity & Beyond in 2001. She enjoys wearing multiple hats as a consultant, trainer, speaker, coach, mentor, educator, researcher, and design thinker. Dina is also a firm advocate for social responsibility and passionately offers her time, knowledge, and expertise to educate, mentor, and inspire youth and women.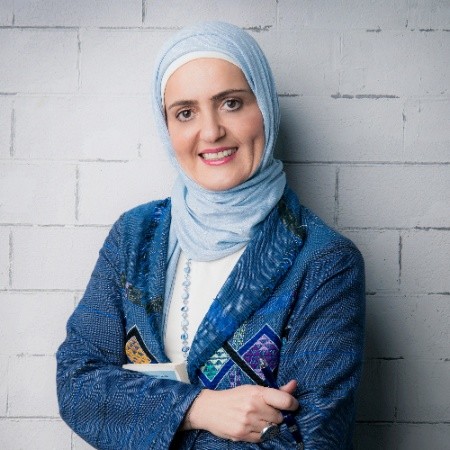 In a chat with GLEAC, Dina spoke about the one person she owes her success to and the soft skills that have helped her so far. Take a look!
GLEAC: Who do you have to thank for a decision that you made that got you where you are today?
Dina: I have to thank my mother. She has been my pillar through and through. I lost my father at the early age of 13. My mother played the role of both parents effortlessly. I called her my cheerleader because when I was pursuing what was impossible, she always believed that I would be able to make it possible. Today I am where I am because she believed in me and made me truly believe that I can achieve anything I set my heart to.
GLEAC: If a future version of yourself had to thank you for something you are doing right now, what would it be for?
Dina: My future version will thank me for my perseverance. I never stopped despite the obstacles and always bounced back better. The future version of myself is still standing because my present self kept going. It will also thank me for building a career outside the 9-5 job and being my own boss.
GLEAC: What is your superpower soft skill? How do you use it in your job in your sector?
Dina: My superpower soft skill is my ability to empathize with others. In my line of business, it helped me relate to others. By putting myself in others' shoes rather than simply claiming that I understand what they are going through, I give them the space to express their own emotions. I feel, especially in coaching, this helps my clients open up knowing that they are safe. I also have the superpower of looking at challenges as possibilities rather than obstacles. Trying to find solutions, and design them if need be. Always believe there is always a way.
As an entrepreneur, this skill is critical as facing challenges and giving up is not an option. Being flexible with a creative mind also helps in turning these challenges into new opportunities. In coaching, I use it with clients in opening up new channels of thinking in dealing with issues by helping them look at the issue from a totally different perspective. Lastly, I have a passion for learning. I am eager to learn and explore. Often look at myself as a lifelong learner. I use this to add value to my clients. And stay up to date on new research in my field and other areas and share it with my clients depending on the project at hand. Also, the passion for exploring makes interaction and communication interesting when working with companies. An exposed person is more interesting to listen to and that helps in interacting with people and building relationships in my line of business.
GLEAC: What hard skills and soft skills are needed for your job?
Dina: The hard skills include the knowledge I've obtained from my degrees and accreditations in my field. This includes my doctorate in the science of learning, design thinking accreditation, lateral thinking, innovation, creativity, mind mapping, leadership, neuroscience, coaching, and facilitation. Research skills to obtain the latest research for jobs and clients at hand is also a plus in addition to technical and computer knowledge to design training programs and learning aids such as PowerPoint and other media.
Another essential hard skill is to deliver work on a virtual basis utilizing tools and applications. Language skills – especially in Arabic and English – have helped me as well. Soft skills are just as important. Some of the skills are presentation and communication, active listening, writing, negotiation and influencing, creative thinking, time management and planning, empathy, integrity, and perseverance.
GLEAC: How does your job impact the balance sheet of your company- which departments does it affect and how?
Dina: I run my own small management consultancy, so my work affects the overall performance of the company.
GLEAC: With all the changes happening in the world, is your sector going to survive, and if yes, why?
Dina: Yes, today human capital development is needed more than ever. Innovation is the future. What needs to be changed is integrating technology into how we offer the services.
GLEAC: If you had to attract more talent to your team from another sector, who would you want, and with what skill sets?
Dina: I want people with vision. With a growth mindset. Attitude, integrity, and creativity are more important than technical skills. These skills can be taught. What can't be taught is character. I look for potential and then I work on developing their skills.
GLEAC: Which are the 3 must-have soft skills for newbies looking to enter your sector?
Dina: Integrity, creativity, and perseverance.
GLEAC: Which skills will those belonging to your sector have to acquire to become indispensable?
Dina: Follow through creative ideas – from generation to creation. Visual thinking. Appetite for business development (utilising social media).
GLEAC: Are there any soft skills you need to work on to better yourself?
Dina: Yes, there is always room for improvement. Skills such as better organization skills, persuasion skills, soft selling skills, social marketing skills, and, of course, patience.
GLEAC: If you had to explain your job to a 5-year-old, how would you do it?
Dina: I would demonstrate what I do. I might do a brain exercise to explain how we can develop our creativity with games and fun learning. I will also show them a model of the brain and tell them where our little lobe responsible for thinking is to associate what they are doing with where it's happening while they are doing it. In brief, I will explain it visually and not in words.
GLEAC: What is the one learning of your professional journey you would like to share with the world?
Dina: Yes, you can. Find your purpose and follow it. Be authentic and sincere. Have fun while you are at it.
GLEAC: Every career has its pros and cons. What are the good and bad aspects of your career?
Dina: There are many good aspects. I do what I love and am passionate about. My work aligns with my purpose and values. Inspiring other humans is the best reward ever. Being part of the change and building relationships based on trust and collaboration is always a sweet win. My field allows continuous learning. Also, the diversity of work while dealing with different clients, sectors, and projects makes sure that work never gets boring. There is no limit to growth.
One of the less-appealing aspects of my coaching job is that it consumes a lot of energy both mentally and physically. Mine is not a 9-5 job so I end up working overtime a lot. This is not healthy even when I'm enjoying my Work. Also, marketing myself is a challenge. I strive to let my work speak for me. Competition is high. Sometimes you are compared with people much less experienced. And lastly, if not careful, what you deal with can impact your well-being. You need to make sure to not carry clients' issues into your personal life.
GLEAC: Work in your sector can get rigorous. How do you keep up the mojo?
Dina: I escape to the mountains. I love hiking and climbing and everything connecting me with nature. Taking short breaks and disappear in one of my adventures. I come back eager and refreshed with many reflections that I pour back into the work and with my clients. Certainly, this positive energy is sensed by the people I work with and for. If can't escape and need to keep up the mojo, I escape in a good book at the beach.
The #GLEACMentorCommunity enables its mentors to network with like-minded individuals from over 47 countries through sharing knowledge, unlocking business opportunities, access to all of GLEAC's monthly events, and much more! Interested in being part of our expert mentor community? Email us at: mentor@gleac.com or apply through this link. For more awesome content from our other mentors check out our blog (www.gleac.com/blog). Visit our website (www.gleac.com) and also for our NFTs head on over to Lovely Humans (www.lovelyhumans.io) to learn more!