I want to co-create projects that are building a better 2030 and beyond. The Metaverse, Web3, and DAOs might sound unfamiliar to most of us, but not to Isla Munro-Hochmayr – Founding Member at FTW DAO. In her own words, Isla spends 90% of her time thinking about how to make venture capital better and she's obsessed with Web3, Blockchain, DAO, and Decentralised Finance. 
GLEAC has partnered with the incredible Isla for Lovely Humans. As part of this one-of-its-kind project, GLEAC will be minting Isla's time as an NFT! What does that mean? You will be able to bid for 5 hours of Isla's time that you can use over the period of a year. Isla is a prestigious member of the #GLEACMentorCommunity. She brings with her a wealth of experience on these emerging technologies that she's eager to share with the world.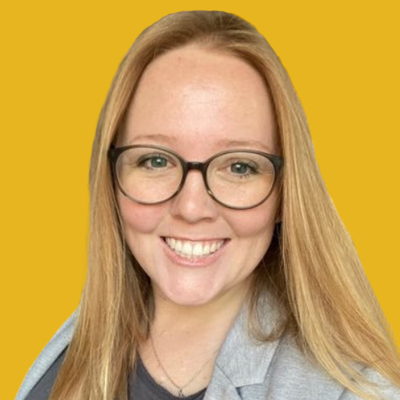 In a chat with GLEAC, Isla spoke about what makes 'Lovely Humans' unique and how people will benefit from talking with high-quality experts. Take a look!
GLEAC: What, according to you, makes GLEAC's Lovely Humans project unique?
Isla: What makes GLEAC unique as a community and as a project is the incredible quality of mentors from different backgrounds. They can help people with their projects by providing their expertise. I'm really excited to be a part of GLEAC's Metaverse project. It's a one-of-its-kind, innovative project that's bringing together a group of mentors that are high-quality. And it's going to be interesting to see the kind of projects that will be brought to life by the sheer support of these mentors. It's really an honor to be a part of it.
GLEAC: How do you think your NFT buyer will benefit from minting time with you?
Isla: I have been working in the Web3 space for 18 months. In the DAO ecosystem, that's a really long time! It might not sound like a long period, but not many people have been in the Web3 space for that much time. My co-founder and I have built our expertise around DAOs – our company is FTW DAO. If you have a question about DAOs and Web3, we can either answer it ourselves or we can point you in the direction of someone who can.
GLEAC: Why is it important to adopt Web3 tools?
Isla: Web3 tools are important to build a community and empower people. Web2 was all about centralized organizations building tools that they managed and governed themselves. Web3. on the other hand, is about empowering people and communities to own, manage, and govern the things they build.
GLEAC: Which projects would you like to work on if you were to co-create something with your NFT buyer?
Isla: I would really like to work on projects that are building a better 2030 and beyond. This would include anything related to the future of work in education or financial systems. I'm also interested in the future of health and wellness. Anything that will better the world and help with the current climate crisis has my interest. Especially if it will make the world we are living in better in 2030 than it is today.
GLEAC: According to you, how secure is the metaverse?
Isla: I have to admit that security-wise, there are a lot of challenges in the metaverse. Most of them come down to human error. Blockchain technology is extremely secure, but the problem remains the scammers. And because the metaverse is new, scammers might get away with things they otherwise wouldn't as not many people are educated about the metaverse. For instance, when we are onboarding someone, we spend more than half the time of their onboarding process talking about security and privacy.
GLEAC: What hard skills and soft skills are needed for your job?
Isla: My background is that of a product manager so managing digital products is a definitive hard skill. I look into balancing the organizational strategy and business outcomes with customer needs and user experience. Then I measure KPIs around that. I also iterate on the products to improve them so as to better revenue outcomes. But I not only look at business outcomes, but also societal outcomes – how the products we are building have an impact on the world. 
From a soft skills perspective, leadership from the bottom up is imperative. DAO and Web3 are all about decentralization. It's been a huge learning curve, for me especially, because I come from a corporate world with a top-down approach where most decisions are out of people's hands. We also work with people across various time zones. Being able to promote healthy remote work and employee engagement are the soft skills I strongly rely on. 
GLEAC: What is your superpower soft skill?
Isla: My superpower soft skills are definitely patience and persistence. You need to engage with a lot of different people if you're putting together a DAO community. Once you've engaged people in your vision, the next step is to keep their excitement for your vision alive. If you're persistent, people will know you're dedicated to your mission and that will take you a long way.
GLEAC: Every career has its pros and cons. What are the good and bad of your career?
Isla: The good is definitely the incredible people I get to meet and interact with from around the world. Also, there are so many exciting things and innovations happening in this space that there isn't a chance to get bored. The fact that my job works beautifully remotely and offers me full flexibility is a huge added bonus.
One of the biggest cons is the time zones. Sometimes I start my day at 8 am and I'm still working at 8 pm because of people being in different time zones. There is also the thing that Web3 never sleeps so it can kind of get overwhelming.
GLEAC: Work in Web3 can get rigorous. How do you keep up the mojo at your end?
Isla: It's a work-in-progress. Personally, I'm ADHD and I struggle with structure. It's an interesting dichotomy because people who struggle with structure need it the most! Putting 'blockers' in my calendar has really helped me. For instance, I have a blocker at 7 am that says 'go for a walk' or one at 7.30 am that says 'have breakfast and take a shower'. While I don't always stick to it perfectly, it helps me to have them on the calendar. I know that's what I should be doing or else I go straight to the computer from my bed and start working! 
Isla Munro is part of our 'Lovely Humans' NFT drop happening on the 15th of October 2022! We give you access to 5 hours of her time through this one-of-a-kind NFT.
For more awesome content from our other mentors check out our blog (www.gleac.com/blog). Visit at our website (www.gleac.com) and also for our NFTs head on over to Lovely Humans (www.lovelyhumans.io) to learn more!